Glorias Navales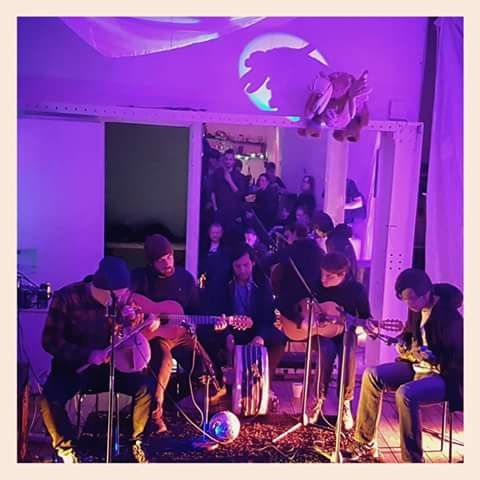 bio
In the beginning Glorias Navales was an acoustic guitar duo. After a while the duo incorporated a hand-made "Bailes Chino" drum and a rabel fiddle, transforming the duo into a trio. They rehearsed constantly in a basement in Santiago, Chile.
Different origins gathered around the triangle formed by the band.
After more than a year of rehearsing, creating, and composing, a cassette came out on Traición 73 Records followed by the group's first live presentations. Shortly thereafter KYE records published Glorias Navales' first LP, Cofradía Náutica, a collection of live and studio recordings.
A while later the band incorporated a ukulele before touring Europe. Their rule: only acoustic instruments, no effects. The tracks on Glorias Navales Presenta El Blues de Istvan were recorded after this tour.
Melancholy and hope join intuitively in basic and repetitive melodies.
personnel
Christian Bartlau, Acoustic Guitar
Alvaro Daguer, "Bailes Chino" Bass Drum
Ivan Daguer, Ukulele
Tomas Salvatierra, Acoustic Guitar
Jose Luis Sepulveda, Rabel & Ocarina
elsewhere